The KODAK L1 and FL5.2 batteries have just been joined by a brand-new addition that has further strengthened the KODAK Solar Storage offering.
Introducing the brand-new KODAK BL3.6 PV battery!
All-new storage for Southern Africa
The BL3.6 is a 3.68kWh battery solution that can be fully discharged in just 1.5 hours. Despite its lower capacity, the BL3.6 offers incredible high performance and comes with a 10-year warranty as standard.
If you are initially looking for a smaller battery bank but want the option to expand later, the BL3.6 is the perfect storage solution for you. Parallelable up to 15 units, the BL3.6 is also scalable for commercial applications.
This battery offers a high continuous discharge current of up to 115A and has a staggering 95% DOD for 3,600 cycles.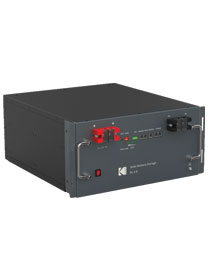 Is battery storage worth it?
Installing a battery system into your solar project paves the way seamlessly to self-sufficiency. For grid-tied locations, it enables greater flexibility, independence and freedom from the grid. You will no longer need to rely on the grid or be concerned about being let down when you need electricity most. Whilst a grid-tied PV system only allows you to reduce your electricity bills, an energy storage system gives you total control over your energy consumption — even during load shedding.
A solar PV battery gives you security not only in the event of power cuts but also against rising electricity tariffs.
Other benefits of battery storage include:
Make the most of every watt generated rather than importing surplus power to the unreliable grid
Quieter and most cost-effective than a diesel generator
Significant reduction in energy bills
Why KODAK Solar?
With so many PV battery brands available, why should you choose KODAK Solar Products?
Solutions from a name you trust
Kodak is an established, global company with a legacy of providing high-quality equipment for all kinds of vocations. Blue Mountain PV is a licensed supplier of KODAK Solar Products that live up to their reputation of excellent performance, reliability and aesthetic design.
Energy you can count on
KODAK Solar Products give you reliable, consistent power to homes and businesses in South Africa, helping you combat the effects of load shedding and regain control over your energy consumption.
Designed with load shedding in mind
Each product in the KODAK Solar portfolio is suitable for use in off-grid applications and has been designed to keep your home or business powered — even in the event of a power outage.
Perfect for South Africa's homes and businesses
Did you know KODAK Solar Products are available exclusively in Southern Africa? The products are ideally suited to this market with the variety of off-grid inverters capable of supporting PV installations in the most remote locations.
Sleek, aesthetic design
The iconic Kodak colour palette is recognisable worldwide, and KODAK Solar Products are in perfect alignment with the renowned look and feel of the brand.
Local technical support
If you need assistance finding a local solar installer or advice on which products are right for you, KODAK Solar Products are supported by the experts at SegenSolar, who are on hand to offer any technical assistance with your KODAK Solar equipment.
Make the switch to renewable energy and choose KODAK Solar Products today.